Boasting both versatility and value, the 2016 Nissan Pathfinder is quite capable of leading a double life, easily switching from the workweek commute to the weekend camping trip and back without breaking a sweat.
So if you like to play just as hard as you work, then your local Westbury Nissan dealership has a 2016 Nissan Pathfinder to fit your lifestyle. It's little bit SUV with its interior space and power, a little bit sedan with its interior comfort and a little bit compact car because of its fantastic fuel efficiency. Simply stated, a Pathfinder from Legacy Nissan in NY is the vehicle offering the best of both worlds to you.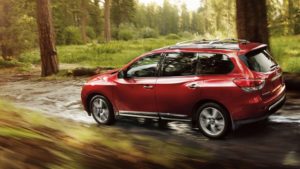 Room for 7
The latest Nissan Pathfinder is up for whatever. Go ahead and pack in the whole family for movie night. Or load up your home improvement materials from the hardware store. This SUV handles like a car and offers the utility of third row seats and seating for 7 people comfortably. The rear rear seats fold flat to produce nearly 70 cubic feet of total cargo space.
Tow up to 5,000 lbs
A Pathfinder from your Westbury Nissan dealers offers above-road visibility that give away its off-road origins. In fact, the Pathfinder this versatile SUV is comfortable tackling any terrain from asphalt to dirt trails and mud. And whether it is your family or a large boat you are hauling, the Pathfinder's best-in-class towing capacity of 5,000 pounds can handle it all.
Powerful, yet Efficient
The driving force behind the capabilities of the 2016 Nissan Pathfinder is a powerful 3.5-liter V6 engine with 260 horsepower. Don't worry, besides its power it is efficient as well. In fact, it will stretch out 28 miles per gallon on the highway. So that means fewer trips to the gas station and, thus, more money staying in your pockets.
So what are you waiting for? Visit Legacy Nissan in NY today and test drive the versatile Nissan Pathfinder. It's ready to go wherever 7 days a week.
---